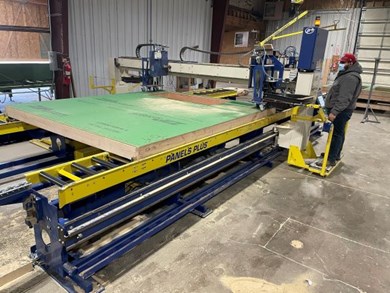 4 Reasons You Should Consider Offsite Manufacturing
Even before the pandemic, labor shortages in the building materials industry have been around for years and will likely always exist. As construction labor shortages and Metro Denver homebuilding increases continue to strain builders, more efficient solutions are needed to help with the building growth in new home construction.
One solution that is growing in popularity is a concept called offsite manufacturing. Off-site manufacturing (OSM) is a construction technique where prefabricated components are manufactured in off-site, then transported and assembled into the on-site structure. 
Benefits of Offsite Manufacturing
There are many benefits to using offsite manufacturing—here are just a few reasons why you should choose OSM.
Faster
Offsite manufacturing has been proven to be faster way to build, decreasing labor costs and time spent on the job. OSM is a more efficient way to get your job done because:
Prefabricated components are delivered to the jobsite ready for install

ation

;
Jobsite errors are reduced; and

Materials ready for assembly require less labor

.

Less opportunity for jobsite theft. Finished components are less likely to go missing versus lumber.  Save time and money not having to replace missing inventory.

Prefinished materials allow you to cut costs on labor, time, and jobsite errors. For an easier and faster build, offsite manufacturing is the way to go.
Safer
Not only is offsite manufacturing quick, but it's also safer than traditional building. OSM assembly on site uses cranes, reducing the number of workers at potentially hazardous heights—this increases safety and minimizes liability risk.
At Direct Lumber and Door, safety is our priority. We have measurable safety standards for our production lines and we continually provide onsite safety training and inspections.
Greener
In an era of environmentally conscious living, it's important to make sure that we are building green. Offsite manufacturing is a greener way to build because of the following reasons:
1. Less material waste. Stick framing requires 25% more wood products than framing it with structural components.

2. Less materials in landfills. Stick framing a house generates 30 times more jobsite waste than using prefabricated components.

3. Energy Efficient. Houses are built so they are more efficient with heating and cooling due to precision cut joints, which when joined, limit air coming in and out of a home. Those reduction and/or elimination of air pockets, leads to less heat or cooling loss.
If you're looking to lessen your carbon footprint and build green, offsite manufacturing is the perfect solution for your project.
Better
At DLD, our team uses 3D-modeling during the planning phase to ensure our top-of-the-line automated machinery cuts with greater precision and accuracy versus hand cutting. Our experienced team of designers use technology to better understand the build and identify potential problems before the construction phase avoiding costly errors. Tighter joints due to precision cuts equates to a reduction in tolerances versus stick-built homes, resulting in a structurally sound end product.
Introducing Direct-Frame OSM with DLD
DIRECT-FRAME is a precut framing program, integrating 3D project design plans with precision cutting. 
Choose DIRECT-FRAME to build fast and build green with:
More accurate material estimates and measurements;
Reduced material and jobsite waste;
Maximized lumber and materials; 
Faster jobsite assembly; and
Less opportunity for jobsite theft.
The result of DIRECT-FRAME at DLD is simple—our OSM program leads to a faster build for commercial and residential builders.
Call Your Local Building Experts at DLD Today
Are you interested in using offsite manufacturing for your next building project? Our Denver lumber experts at Direct Lumber and Door are always ready to help you with your project. To learn more about DIRECT-FRAME and how DLD can help you, give us a call today.