DIRECT-BUILD
Direct Lumber and Door believes in building for the future and investing in technology and machinery to be innovative and competitive. To better serve the growing demand of our Colorado customers, we are now offering DIRECT-FRAME and DIRECT-INSTALL, our precut framing and offsite manufacturing programs.
We value the history and the skills required for traditional "stick-building". However, as the building industry evolves, and the need for budget, time, and labor savings are demanded on the market, a more efficient way to build is here, and Direct Lumber and Door is ready to provide this option to our customers.
We are investing in technology, research and equipment to help our customers complete more buildings, better and faster, all while consciously striving to decrease our environmental impact by reducing waste.
Introducing DIRECT-FRAME
DIRECT-FRAME is a precut framing program, integrating project design plans with precision cutting.  All precision cut lumber is clearly labeled and packaged ready for assembly at the jobsite resulting in a faster build and less jobsite waste. 
Introducing DIRECT-INSTALL
DIRECT-INSTALL takes our DIRECT-FRAME one step further.  In addition to utilization of 3D design software and precision cutting, our experienced team of carpenters build the roof and floor trusses, as well as all the wall panels. All finished components are clearly labeled, packaged and delivered on time to the job site ready for installation. Our offsite manufacturing program results in a faster build for commercial and residential builders. 
BENEFITS OF DIRECT-BUILD
DIRECT-FRAME's precision design and manufacturing is a building process that is better, faster, safer, and more environmentally friendly. At DLD, we believe faster builds is one solution to the current and projected challenging labor market.

With DIRECT-BUILD, your precision cut lumber or prefabricated trusses and wall panels arrive ready for installation, allowing your framers to be more efficient which results in more homes being built. This reduction in framing time increases productivity, improving your bottom line.
Our streamlined process includes a team of experts identifying potential issues before they become problems reducing jobsite errors.
Precision cutting means less jobsite measurement and cutting errors leading to less material waste. More efficient use of materials adds more value to your bottom line.
Improved project management of building life cycle.              DIRECT-BUILD adds predictability to component delivery and installation, allowing for better management of production and build schedules.
Your custom DIRECT-BUILD order arrives to your jobsite bundled and labeled ready for assembly or installation.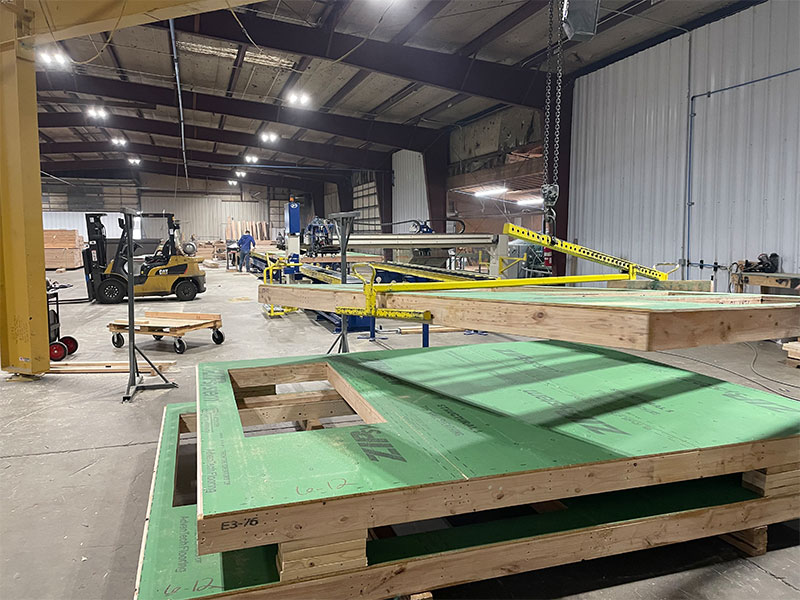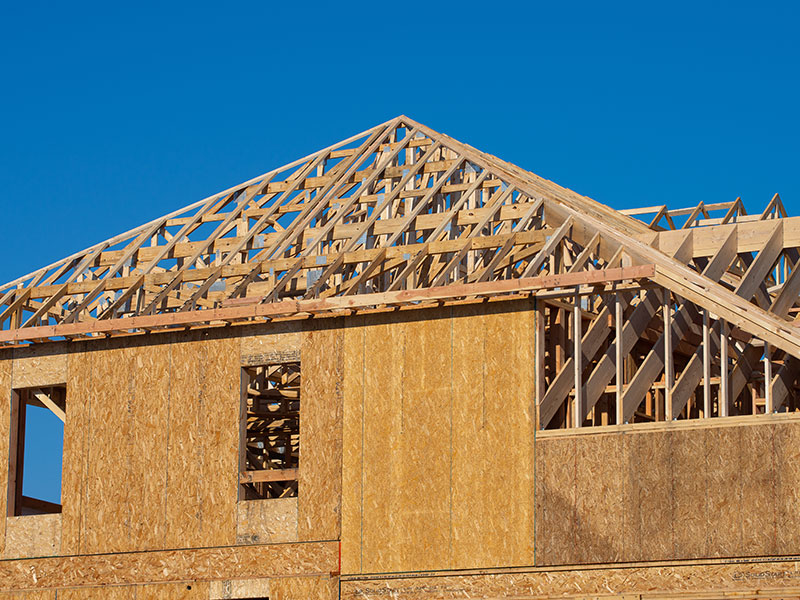 Work safety is our priority, not only for our own employees, but for our partners as well. DIRECT-BUILD safety is two-fold:
At DLD we put in place measurable safety standards for our production lines and provide continually onsite safety training and inspections. Pre-fabricated components are labeled for easy visibility for loading and unloading on delivery trucks and jobsites.
DIRECT-BUILD onsite assembly uses cranes, reducing the number of workers at potentially hazardous heights. With an eye on safer production, delivery, and installation equates to fewer workers compensation claims and insurance costs.

Building lasting and genuine partnerships is what drives DLD, but we are leaders in also providing solutions for greener & sustainable building.
Stick framing requires 25% more wood products than framing it with structural components. Less material waste results in more trees for our environment.
Stick framing a house generates 30 times more jobsite waste than framing a house with structural components

 

resulting in less unusable materials in landfills.
Precision cutting equals precision joints, improving the overall building envelope, and helping deliver a home with more efficient heating and cooling.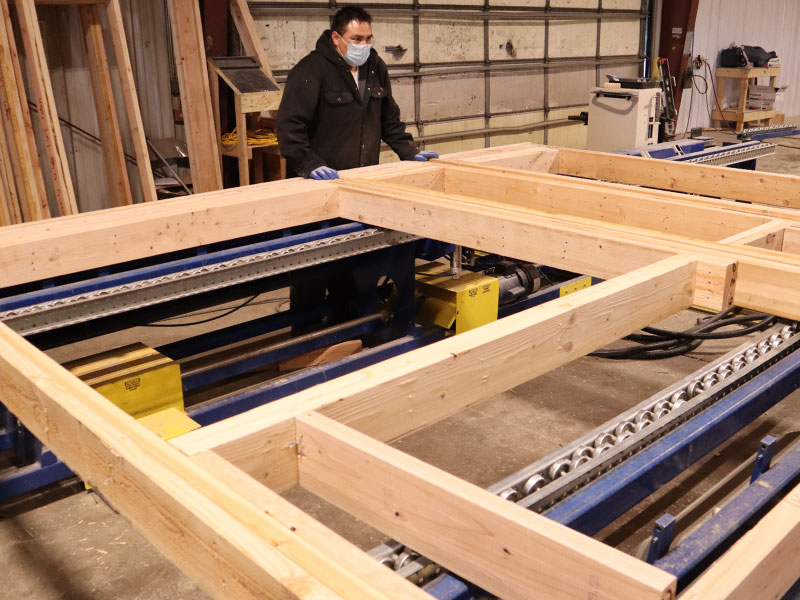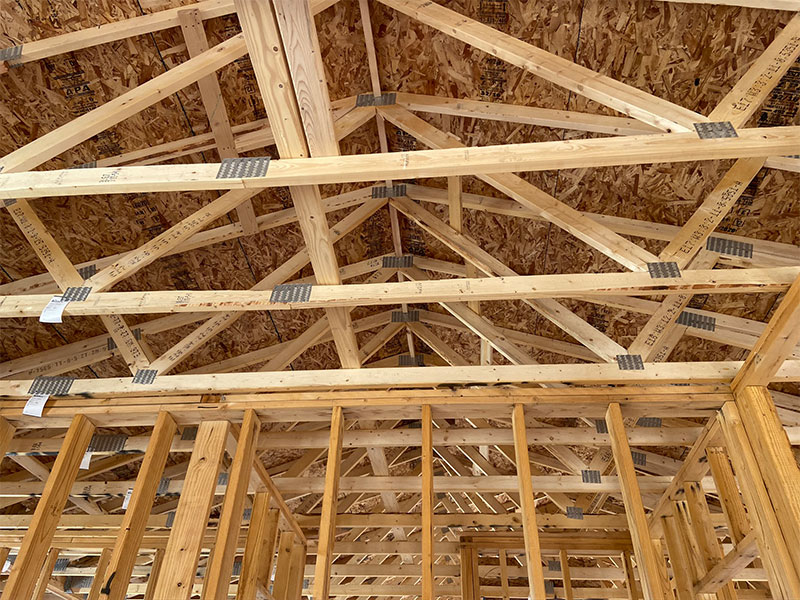 At Direct Lumber and Door of Colorado, we continually strive to offer innovative solutions to our builder partners. Not only is DIRECT-BUILD faster, safer and greener, it is better.
Our team uses

 

3D-modeling

 

during the planning phase to ensure our top-of-the-line automated machinery cuts with greater precision and accuracy versus hand cutting.
Precision cuts means joints fits together allowing for a reduction in tolerances compared to stick-built homes resulting in an end product that is structurally sound and stronger.
As we all know, building in Colorado has its weather challenges. Thankfully, DIRECT-BUILD homes are constructed faster, reducing the risk of delays due to Mother Nature. Not to mention the numerous advantages of reducing the amount of time components are exposed to harsh weather. All of this adds positively impacting your bottom line.  
We will always continually strive to not only offer building solutions that are better, but also help our partners build faster, safer and greener homes that positively impact the communities we live for future generations.
Collaborate with our team at DLD to learn more about DIRECT-BUILD and how we can supply prefabricated materials to your next building project.
---