2022 Door & Window Trends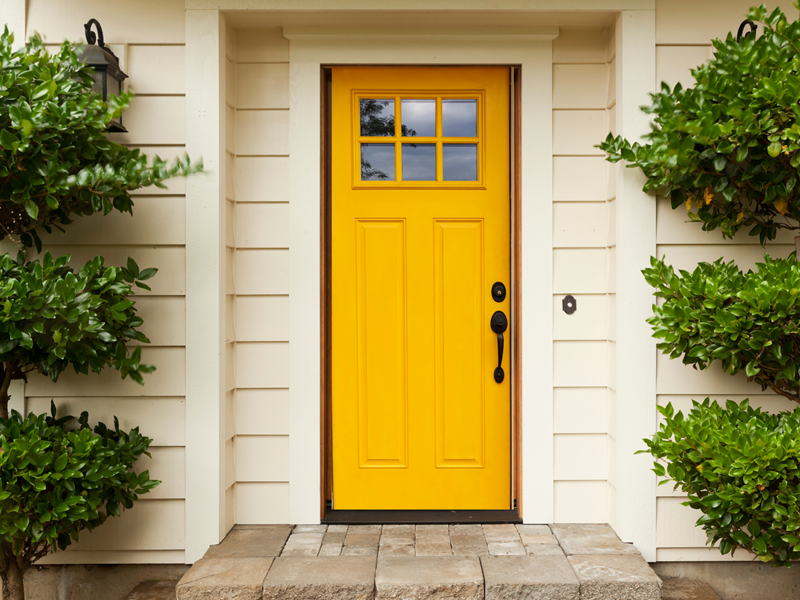 As the new year rolls in, so do new home building and remodeling trends! Throughout the COVID-19 pandemic, homeowners have shifted their focus from work and travel to enhanced remodels, indoor-outdoor living, and making their mark on their properties.
Home offices are taking center stage this year, along with striking new window and door trends to give your home a contemporary and unique look. If your New Year's resolution is to elevate your day-to-day aesthetic with current door and window trends, look no further—we've got you covered from energy efficiency to the entry way.
Dress Up Your Doors
Knock knock, who's there? Whether you have dinner party guests, visiting family, or a desire to say more with your doors, take this opportunity to make a statement with your interior and exterior doors with the following trends.
Bright & Bold Make a Comeback
When it comes to exterior door colors, you can't go wrong! While interior doors usually cater towards the natural minimalist style, all colors for exterior doors are fair game. Popular colors for this year include:
As the new year rolls in with remodeling budgets, homeowners are taking more interest in making a statement with their doors—go bold or go home!
Sleek Styles
This year, neighborhoods from Denver city to the suburbs are embracing modern and contemporary twists with pocket doors and sliding doors.
Pocket Doors
Pocket doors are a hot new trend that are quicky gaining traction, specifically for to add style and finesses to residential bathroom doors. If you're into the pocket door look, take the opportunity to make it your own and use your space with single or double doors.
Lift & Glide Sliding Doors
Sliding doors make for a simple yet luxurious look when it comes to modern homes. Many homeowners have opted for the floor to ceiling glass sliding doors to add natural beauty and sunlight to their indoor-outdoor lifestyle.  
Modern Materials
Just like any other aspect of your home, there are countless door material options to choose from depending on your budget, aesthetic preferences, and durability standards. A few of the most popular door materials for 2022 include:
Dark hardwood. Hardwood doors are commonly used for external use, like front-entry doors—impress your guests with a striking and elegant timber door.
Sleek aluminum. Although aluminum frames used to be reserved for commercial buildings, this material has made its comeback to residential spaces to execute a sleek modern look.
Sliding fiberglass. Sliding fiberglass doors allow easy access to the outside world with a modern appearance that will withstand the test of weather and time.
Hardwood, aluminum, and fiberglass are all striking options for your doors with different benefits—before selecting the door style and material you want, do your research and consult with a local door company.
Windows with a Wow Factor
Windows might seem like a lower priority than other home remodeling projects, but did you know you can be bold and save money with new windows? Two emerging window trends of 2022 are energy efficient windows and dark or black frames to compliment your home.
Energy Efficiency is Key
Energy efficiency and green building is all the rage right now—to lessen your carbon footprint and your heating and cooling bills, invest in energy efficient windows for your home.
To find out what each window's glass efficiency features include, look for an ENERGY STAR sticker with U-value (heat loss resistance) and Solar Heat Gain Coefficient (heat transfer measurement) ratings. The lower the number, the better the energy efficiency. 
Black is Back
One of the most popular window trends for 2022 is the continuance of painted window frames. Regardless of what type of neighborhood you live in, new and old homes are jumping on the bandwagon on dark trim with neutral siding to create a timeless exterior design.
Statement Doors & Windows from Direct Lumber & Door
2022 has arrived and is in full swing—are you ready to be the talk of the block with new windows and doors? At Direct Lumber and Door, we carry all the latest styles and trends to keep your home affordable, stylish, and long-lasting.
From solid wood to fiberglass doors and energy efficient windows in all materials and sizes, DLD has a wide variety of products to perfect your project. Ring in the new year with new doors and windows and give us a call today!