HIRING: Truss Laborer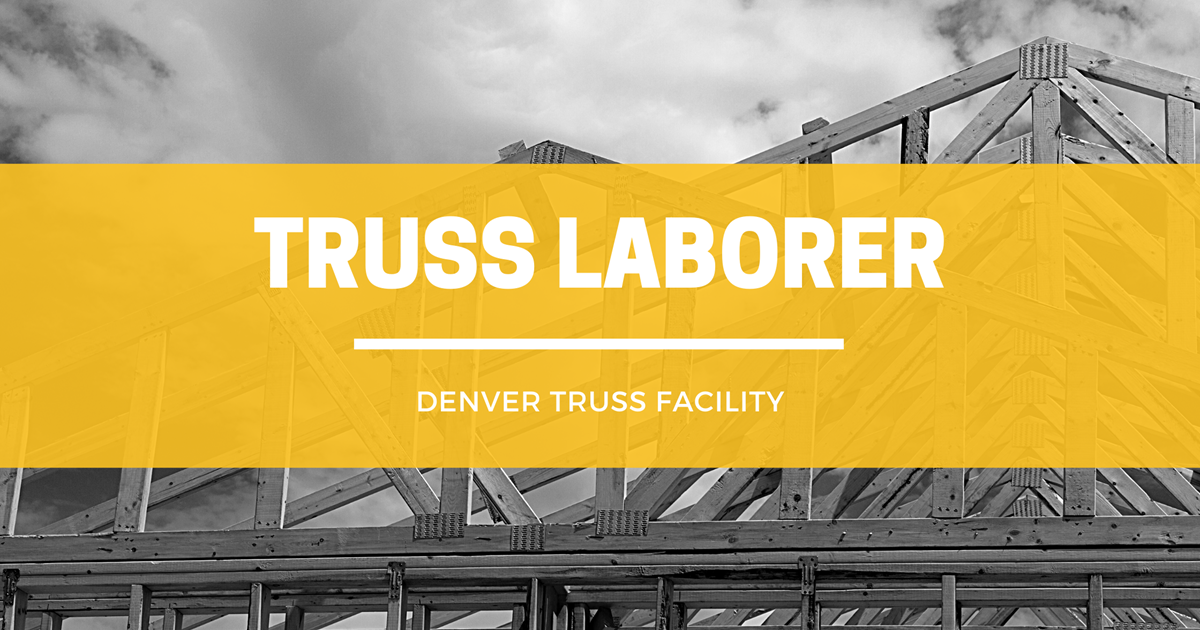 DIRECT LUMBER AND DOOR OF COLORADO IS CURRENTLY HIRING FOR THE FOLLOWING POSITION:
POSITION TITLE:
TRUSS LABORER
REPORTS TO: Operations Manager
STATUS: Part-Time (flexible schedule) and Full-Time (Monday-Friday, with benefits package) available
LOCATION: Denver Truss Facility (6700 Franklin Street, Denver, CO 80229)
PAY RANGE: $13.00 - $23.00 per hour depending on experience
Essential Job Functions and Responsibilities:
Accurately

read a tape measure and other measuring tools

Safely use various small hand tools including wrenches, screwdrivers, etc
Need to have knowledge of use of pneumatic tools, including but not limited to air and staple guns
Have knowledge of building materials, location of inventory, and follow proper storage and handling of products
Keep things picked up in yard and building to maintain cleanliness, including wrappers, banding, etc., and general housekeeping
Effectively communicate with employees, managers, and customers
Read and comprehend written and printed materials, as well as information presented in numerical form
Additional Responsibilities:
Dresses and maintains personal appearance as required by your supervisor and company policy
On occasion, retail and contractor customers may be in the yard and storage areas. They must be acknowledged, greeted, helped and/or sent to proper location for assistance.
You must attend regular and special meetings of your department and company as called
Other job duties not listed above on an as-needed basis
Physical Requirements:
Stand, walk, and bend repetitively.
Kneel, squat, twist, and climb repetitively.
Reach with hands and arms, swing and grasp repetitively
Carry, lift, and/or move heavy and awkward materials. Most frequently handled items will weigh less than 50 lbs. There are procedures in place for the safe handling of heavy items including use of multiple persons and mechanical aids.
Specific vision abilities required by this job include close vision, distance vision, peripheral vision, and the ability to adjust focus
Functional Skills:
Enthusiastic, goal oriented, reliable
Enjoys working with a team
Excellent organizational and time management skills
Independent and self-motivated
Problem solver, ability to look ahead and understand future steps necessary to complete a task
Must have the ability to handle multiple tasks and priorities
Work Environment:
Regularly exposed to year-round outside weather conditions, including heat, humidity, rain, cold, dust, ice, and snow.
The noise level in the work environment is usually moderate
The employee regularly works near moving mechanical parts
Must wear personal protective equipment including, but not limited to, safety shoes, ear and eye protection, etc. where required
Application Process: 
To apply, fill out the form below or forward your resume to us at: HR@DirectLumberandDoor.com
Be sure to include the title of this position in the subject line and/or the body of the email.