Celebrating a Local Legacy: Direct Lumber & Door Celebrates 10 Years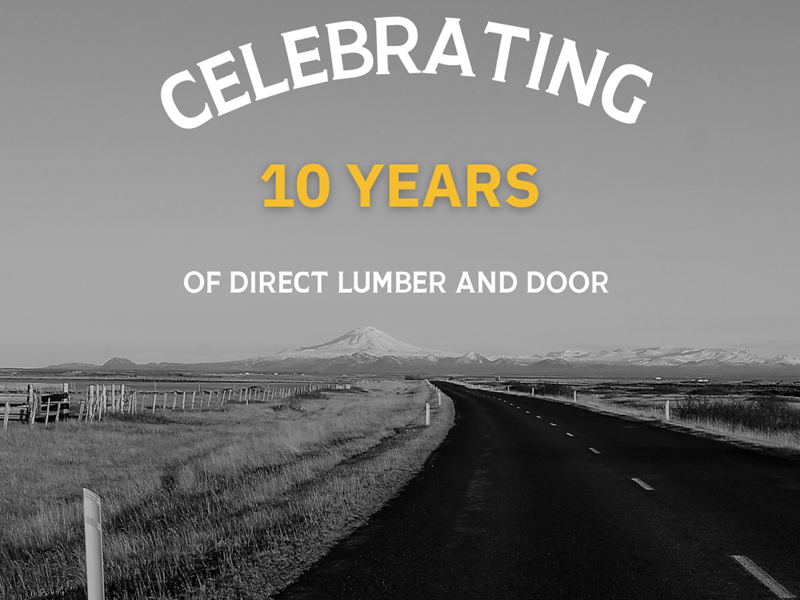 Celebrating a Local Legacy: Direct Lumber & Door Celebrates 10 Years 
We are proud to announce that Direct Lumber & Door turned 10 on March 15, 2022. To celebrate this milestone, each DLD location brought in pizza, cake, 10-year celebration T-shirts, and a message from DLD's President, Michael Severa. 
About DLD 
Direct Lumber and Door is a locally owned and operated building component manufacturing facility and full-service lumberyard that specializes in servicing professional builders. Throughout the last 10 years, DLD has expanded their single location to five locations serving the Denver metro area with the following product categories: 
Engineered wood

Exterior trim

Windows

Millwork

 

Hardware
Decking

Precision manufactured floor and roof trusses.

 
One of their five locations includes a specialized millwork warehouse with custom millwork capabilities including moulding, hollow metal door welding, and window headers. DLD recently opened a new warehouse to expand their company reach and improve their service and delivery of residential windows.  
DLD's First Decade 
In 2012, DLD was founded with the goal of building lasting partnerships with customers by providing the highest level of craftsmanship, expert insight, ad quality lumber and building products. 10 years later, DLD has now set the standard of excellence in both the state of Colorado and the lumber and building materials industry with a people-first approach: 
Pride. DLD takes pride in everything they do including customer service, employee involvement, and community outreach.

 

People. The greatest asset to any company is its team—DLD would not be celebrating this milestone without Team DLD.

 

Responsibility

. As a locally grounded company, DLD has a passion for serving the Denver community with the highest standard of dedication. 

 

Improvement

. DLD is committed to continuous improvement, innovation, and superior customer service.

 

Dedicated

. Our dedicated team at DLD is driven to deliver quality service on every job, so matter how big or small.

 

Excellence

. DLD continually strives to go above and beyond to meet the needs of our customers and exceed customer expectations. 

 
For the past 10 years, DLD has operated with the philosophy of empowering their team to make decisions that best serve the customer. Direct Lumber & Door will continue operating with this goal in mind and keep their customers at the center of their focus. 
Strong Culture & Hometown Values 
The team and people at DLD truly sets the standard for industry excellence, expertise, and customer service—that's why DLD's working culture and customer model are so successful. When DLD was founded in 2012, the company started with 57 employees, 21 of whom are still there today carrying on DLD's legacy. 
"In the saturated building supply arena of the Colorado Front Range, DLD still operates as a hometown, employee-first, do-right-by-the-customer company," says Michael Severa, President of DLD. "We have a team-first attitude driven from the top down and we will continue to operate this way for the next 10 years."
DLD prides themselves on strong company culture with these goals and values in mind: family, continuous improvement, and local community involvement.  
Join DLD in the Next Decade of Success & Partnership 
With $134M in sales in 2021 compared to $10.5M in their first year of business, DLD continues to thrive as a growing and innovative business in Colorado. To learn more about what it's like to join the DLD team or to get more information about doing business with them, visit www.directlumberanddoor.com or give them a call today.